The Ocean Grove Coastcare Group in conjunction with Bellarine Catchment
Network recently completed stage 2 of the Ocean Grove Governors Place
Coastal Alkaline Scrub rehabilitation project. This project funded by the City of
Greater Geelong and titled 'Street to Sand' has had significant community
groups and land manager collaboration. An area that had been overlooked for
many years contained high biodiversity values, but was invaded with weeds.
Through this project the weeds were addressed, fuel loads removed from site,
slope erosion control undertaken, wildlife corridors and connectivity established
and the biodiversity values projected and enhanced.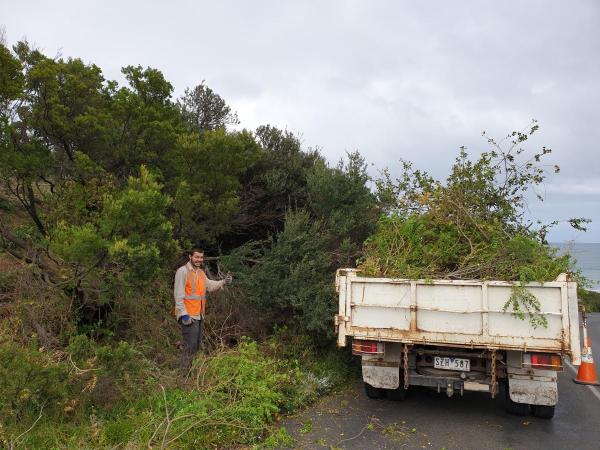 Weed control at the project site was a major aspect and challenge. Steep
uneven ground proved difficult working alongside Presidents Avenue. A major
initiative was the Traffic Control supplied by the City of Greater Geelong to allow
access along the road. Barwon Coast COM provided the truck to remove the
woody weeds from the site. Importantly not only did this improve the
biodiversity, but also Barwon Coast removed 16.5m3 of weed / fuel loads.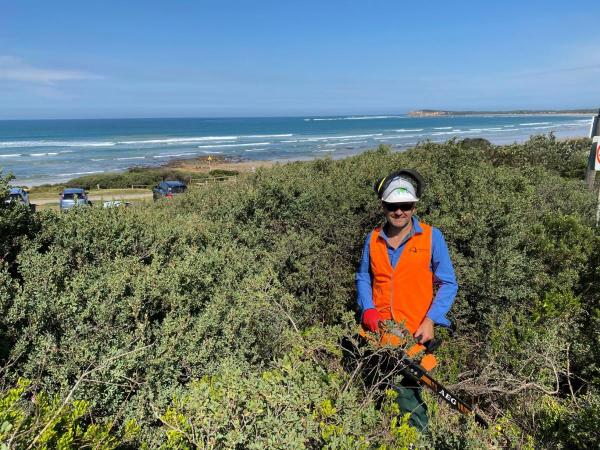 A project of this complexity could not have been undertaken without this
collaboration. Whilst this has made a significant difference to the biodiversity
values of the site, maintenance is the key going forward. In order for the site to
reach biodiversity benchmark (EVC Benchmark), the site will require regular
maintenance for the next 10 years. Significant weed regeneration occurs after
the initial control due to removal of competition and access to light, space and
nutrients. Therefore the follow up is critical to ensure efforts and resources are
not lost into the future.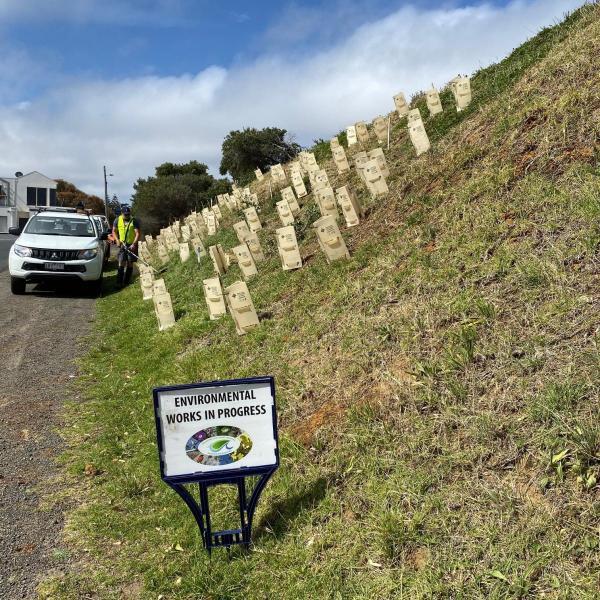 For More information:
Matt Crawley
Program Manager
Bellarine Catchment Network
Email: matt@bcn.org.au | Mob: 0417 231 853
For More information:
Margot Busch
President
Ocean Grove Coastcare Group
Email: margotbuschy@gmail.com
Also from this author
A holistic approach to environmental education: How to foster ongoing environmental stewardship in the community. Bellarine Catchment Network engages the wider Bellarine Peninsula community through a variety of programs and opportunities that facilitate re-engagement and behavioural change. Their goal is to continue delivering integrated community driven projects that protect and enhance the environmental values of the Bellarine. ...
Bellarine Carchment Network teamed up with Wreck to Reef Swim. Approx 2000 single use plastic cups were diverted from landfill, 300 reusable coffee cups were used, with 90% of participants using the cups and Aquascope activity was held for the kids. A great event and enviro outcome.
The Coastal Moonah Woodland located at Narrows Queenscliff Victoria, is a wonderful environment full of twisted and gnarled Moonah trees. Listed as Threatened under the Victorian Government Flora and Fauna Guarantee Act, this vegetation community holds a special place for residents and visitors alike. In 2020 The Borough of Queenscliffe in partnerhsip with the Bellarine Catchment Network, Country Fire Authority, Working For Victoria and Swan Bay Environment Association embarked on an ambitio...
Related Blogs
The Clifton Springs Curlewis area is a hidden gem in Geelong, filled with stunning waters, sandy beaches and iconic views. To protect all this beauty, a new Coastcare Group has formed to conserve the values of this section of coastline for future generations. The Clifton Springs Curlewis Coastcare Group held first meeting during December 2019 and elected an interim volunteer committee of management. Over 2000 Coastcare groups currently exist in Australia with the aim to protect and conserve t...