Whilst we have all been #stayinghome to protect our community, Bellarine Catchment Network have come up with an innovative way ​that students and environmental volunteers can stay connected to the environment. The not-for-profit environmental organisation will be releasing a series of 'Environmental Action – A Practical Guide' videos showcasing environmental action and information that can contribute towards local conservation. View the first video here: https://www.youtube.com/watch?v=2SbP8HB_mAM
Rebecca St Ledger, Environmental Projects Facilitator of Bellarine Catchment Network features in the first educational video and is excited by the chance to bring simple conservation actions to volunteers and students at home.
"We are delighted to be bringing these 6 fun and informative videos to viewers at home who are looking for ways to reconnect with the outdoors. We wanted to make conservation achievable and inclusive for everyone, no matter if you're a total beginner or have a lot of experience behind you. We hope viewers find the demonstrations motivating and are excited to give things a go!"
Graeme O'Leary, President of the Bellarine Catchment Network is enthused by the potential to inspire new and existing conservationists.
"The six videos we are releasing are designed to engender a genuine interest in preserving our unique local flora and fauna in all age groups. We hope the videos inspire you to investigate the exceptional and remarkable environment that surrounds us on the Bellarine. The community preserve and work towards a healthy habitat for ourselves and future generations. Each one of us can make a difference."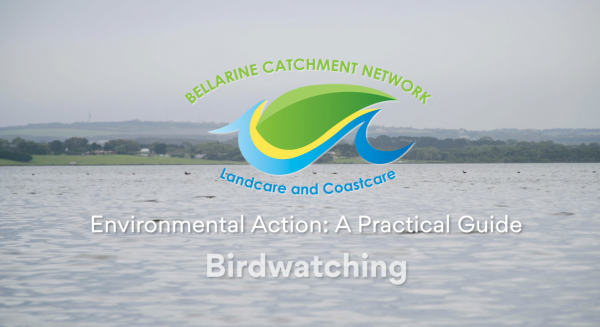 Also from this author
The Clifton Springs Curlewis area is a hidden gem in Geelong, filled with stunning waters, sandy beaches and iconic views. To protect all this beauty, a new Coastcare Group has formed to conserve the values of this section of coastline for future generations. The Clifton Springs Curlewis Coastcare Group held first meeting during December 2019 and elected an interim volunteer committee of management. Over 2000 Coastcare groups currently exist in Australia with the aim to protect and conserve t...
Related Blogs
As a Wildlife Volunteer you do not expect Blue Tongue Lizards, young magpies or koalas to be part of your work environment but it has happened more time than I can count on my ten fingers! Traralgon Aged Care - Blue Tongue Lizard Moe - abandoned Warehouse - young magpie as adult magpies hitting the window to rescue it ...
The importance of conservation projects being funded on private land cannot be underestimated. Mt Toolebewong & District Landcare Group members initiated a Leadbeater's Possum Survey and Nest Box Installation Project in 2019, after attending a Faunal Emblems information day at Healesville Sanctuary provided by DELWP. Although we knew this endangered species was present on the adjoining mountains of Ben Cairn and Donna Buang, and we suspected we had suitable habitat, there was no proof of their p...